---
---
My husband Ned teases me that my life is simply a series of ruts, but I like to think that my life is composed of seasonal rhythms and liturgies. The traditions in our home that mark the transition from September to October have barely changed these past few decades: Phil Keaggy's Beyond Nature playing in the morning; Lauridsen's Lux Æterna filling the air throughout the day; something big-band jazzy, such as Ella Fitzgerald's Johnny Mercer's Songbook accompanying dinner preparations; pumpkins and gourds decorating window sills; trips to Cherry Hill Orchards for apples, apple cider, and cider donuts; and a variety of local apples cooking down to applesauce in the crockpot on Saturday afternoons. And soup—lots of soup. There are pots of soup ready for family on weeknights and more pots for friends on weekends.
Ned has also pointed out—and not disparagingly—that the highest good in the Bustard household is the concept of "cozy." As the weather changes to chilly, candles flicker when the sun goes down, lightweight throw-blankets lay curled up on the couch, and soup simmers on the back burner of the stove. I make chicken vegetable soup on Sundays in preparation for Mondays, and Taco Soup for Wednesday when I am mid-week weary and need to make a simple meal. Cheesy Wild Rice Soup is a household favorite, which usually gets made in those times when I don't have a shopping list on hand. I can easily remember the ingredients while roaming the aisles at the grocery store Friday afternoons after work.
On many cold-weather weekend nights we open our home to old friends or new, small gatherings or large. And this culture of welcoming and cozy are the highest good in how I plan our meals and time together.
Many years ago, instead of being frustrated by how our long, narrow city row house dictated the size and shape of our gatherings, I decided to lean into it and use those boundaries to find my own hostess-ing groove. Because we had turned the dining room area into a library, which is separated from the living room by a tall, wide archway, I learned I could host up to 20 folks scattered around these two connected rooms for large "plates-on-your-lap" gatherings. Our kitchen table is just the right size to seat six people for a more intimate meal. Over the years, both arrangements have worked well. At one point I declared to Ned that I would "from now on, make soup for our winter gatherings," and then invested in extra white soup bowls and sandwich plates and lots of spoons.
Cozy and welcoming are my gifts to our guests, while stress-free and enjoyable prep time is my gift to me. I love preparing my home for people. It makes me happy to create a space that says "I am glad you are here; make yourself at home." Pots of delicious smelling soup, plus hearty bread, homemade applesauce, and Ghirardelli's Double Chocolate Brownies cover the kitchen counters, ready and waiting to be enjoyed. Sprinkle in some good music, candles, and my dog, Pevensie begging to be petted, and you have the ingredients for a perfect, cozy evening with friends.
The following are two of my favorite soup recipes. One is quite easy but always a crowd-pleaser. The other takes a little more time, but it is very satisfying on a cold night.
Taco Soup
Soup ingredients:
1 pound ground beef
1 package taco seasoning (I try to find low sodium, all natural blends)
1 46 fl oz container of tomato or vegetable juice
1 16 oz can refried beans
1 16 oz frozen sweet corn
Soup toppings (think taco toppings):
Tortilla chips
8 oz shredded Mexican blend cheese or sharp cheddar cheese
Chopped avocado
Diced onions, peppers, tomato
In a soup pot, brown the ground beef and then follow the taco seasoning package directions.
Once the taco meat is finished, add the tomato juice and heat up.
Add refried beans and keep stirring till the refried beans have "melted" into the soup. Add the corn and heat up soup till hot enough for eating.
(You also may stir in the cheese till melted, or use the cheese as a topping.)
Set the table with soup toppings; each person can add their own toppings.
Soup recipe found in my friend Mary Kuck's cookbook, but passed onto her from another friend, Elise Battle. This recipe has been passed on to many other friends.
Sweet Potato and Andouille Soup
¼ lb of Andouille turkey sausage diced
4 Tbsp. unsalted butter, divided
1 ¼ cups onions, finely chopped
1 tsp. dried thyme
1 ½ lbs. sweet potatoes, peeled and cut into ½" cubes
7 cups chicken broth
¼ cup brown sugar
¼ plus 2 Tbsp. heavy cream
Salt to taste
Pepper to taste
Nutmeg or cinnamon to taste
In a large soup kettle, cook turkey sausage in 2 Tbsp. of butter over moderate heat for 5 minutes

Add onions. Cook until onions are soft.

Add thyme and sweet potatoes. Cook while stirring for 5 minutes.

Stir in broth and brown sugar.

Simmer, partially covered, over moderately low heat for 45 minutes, or until sweet potatoes are tender.

In a blender or food processor, purée soup in batches, transferring it when puréed into a good-sized saucepan. (I have also used an emulsion blender – but I always make a mess!)

Stir in cream and remaining 2 Tbsp. butter.

Add salt and pepper to taste.

Garnish with a dash of nutmeg or cinnamon just before serving
Original recipe by Michael L. Ervin, found in "Fresh from Central Market" Cookbook, edited by Phyllis Pellman Good, Good Books, 2009
---
---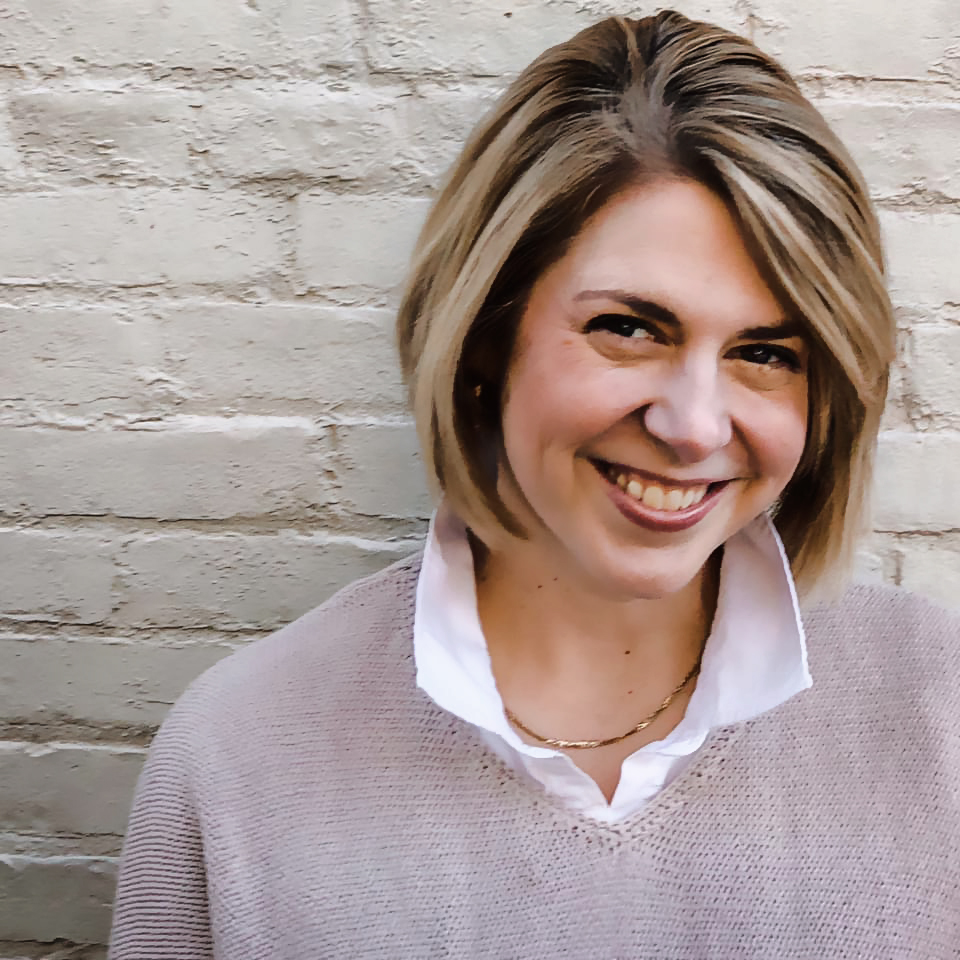 Leslie Anne Bustard takes great joy in loving people and places, whether at church, around her kitchen table, in a classroom, or traveling around. She delights in words, and marvels at the beauty found in the details of ordinary life. Reading, writing, teaching literature, baking, producing high school theater, and museum-ing are some of Leslie's favorite things.  Leslie is the host of The Square Halo, a podcast for Square Halo Books  and is developing a book titled Wild Things and Castles in the Sky: A Guide to the Best Children's Books. She and her husband Ned have been married for 30 years and live in a century-old row house in Lancaster City, where they raised their three daughters.